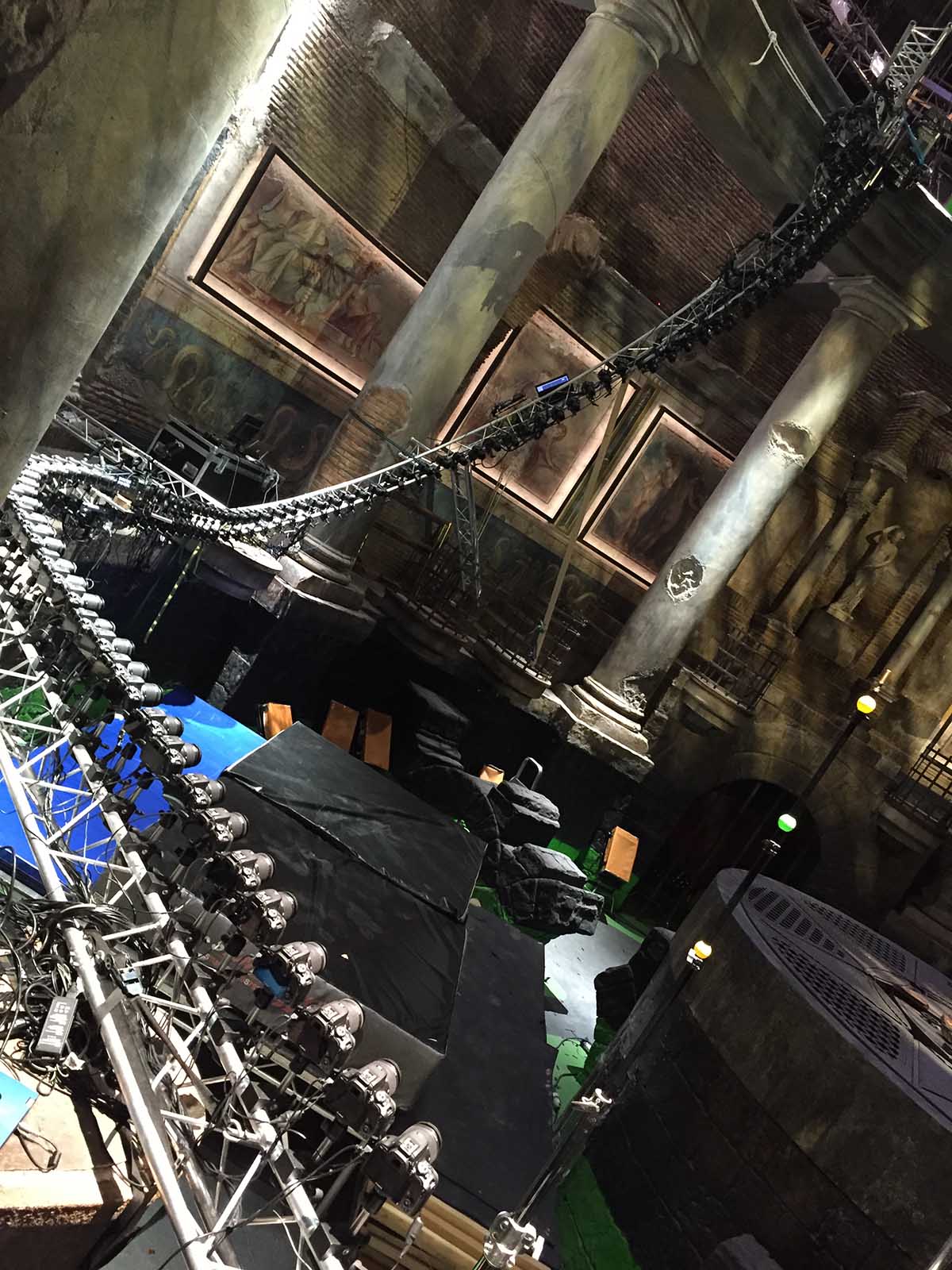 Bullet Time Motion Control
Using a bullet time rig, you have an exact path, millisecond perfect positioning, precise frame alignment. Repeatable and programmable motion control that can move faster than any camera on the planet. With virtual speeds when set to sequential triggering of over 550mph, 25 times faster than the worlds fastest robot arm, all done with no moving parts, so complete safety for crew and talent.
Motion Control Case Studies
FPS to Frozen Motion Control
Nokia
Using an 84 camera rig, we captured this smooth path from real time motion to ultra fast speed, all the way down to a frozen freeze which is not possible with any other technique. No Robot Arm or dolly along a track can achieve this, as the frames per second changes across the transition, it would need to be travelling at a colossal speed and it couldn't travel fast enough to freeze the motion.
Composite using Bullet Time Motion Control
SkyBets
We captured dozens of items all thrown into the scene, which were then comped onto a single shot of Jimmy jumping, to achieve a composite video of many items floating around him. Each item perfectly aligned, as it was taken with the same rig, in the same place for exact angles.This couldn't have been achieved any other way, as a camera moving would need to move at thousands of miles per hour to capture it.
Stop Frame Motion Control
Pepsi Max- Insa
With 10 triangular columns, each being painted, then repainted, and repainted again and again… 72 times. With each painting, the lines and painting was slightly different, giving an animation. Then over 200 bullet time movies was taken over 3 weeks on 96 cameras.
As the cameras or columns didn't move, we have a perfect stop motion, but from any angle in post. This allowed us to cut from one painting (bullet time movie), to another, giving an animation and movement at the same time. This was far too big for a robot, and not possible any other way to keep the alignment perfect.
This is one of our favourite jobs over the last 22yrs.
Robot Arm Motion Control Vs
Bullet Time Motion Control
We are not discrediting robot arms, we think they are amazing and have thought about buying one many times. Just showing that there are some pros and cons for both and many techniques can only be done with Bullet Time rigs.
Setup time
About the same, 1 – 8hrs depending on the complexity of the rig/arm including programming of the arm.
Frozen Capture (Bullet Time)
Not possible with any robot or motion control rig, just a bullet time rig.
Light painting
On a video camera, this requires each frame to be finished exposing before the next frame starts on every film camera in the world, this can not be done by any other form of moving video camera other than Bullet Time. The bullet time also keeps the background frozen and crisp, so just the moving aspects are light painted.
Rental Cost
A medium sized Bullet Time rig is equally comparable in cost to a robot arm or motion control rig.
Shot Preview
Bullet Time shots are aligned previewed and exported in 20 – 30 seconds on a directors monitor.
Precision
As it is completely digitally controlled, with everything locked down so no cameras move at all, it is incredibly precise, far greater than any motion control camera. But all still shot in-camera.
Motion Speed
Bullet Time is about 10 times faster, with 250 meters per second, the fastest arms run at about 10m/s
Safety
There is no moving parts at all, you could sit on top of the bullet time rig in full operation with no injury… until we throw something at you for sitting on the rig.
Lead in and Lead out
Using GenLocked Bullet Time Cameras, we can start, stop, and move to any camera and slice any bullet time at any point in the array in post production after the filming
Quality
We shoot at up to 5.5K @ 14 bit with either precise synchronise capture or we can dial in delays between the cameras to give up to 1000fps and ramping the frame speed through the array.
Power Needs
Bullet Time only needs one household 13 amp socket, a robot needs 3 phase with dozens of amps.